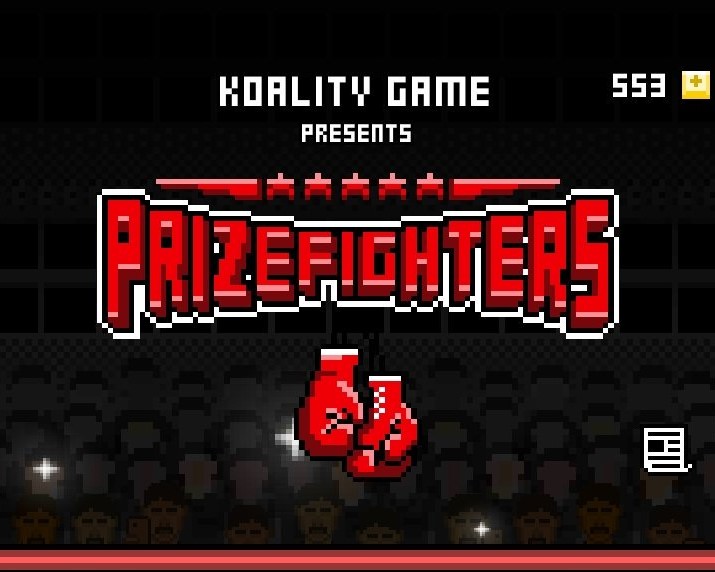 Recommended Game – Prizefighters
If you're like me and have been playing video games for the better part of the past 25 years, mobile games are a hard sell. Which is why a game like Prizefighters is so good. Released by Koality Games, Prizefighters is a game heavily inspired by the arcade and console series, Punch Out! from Nintendo.  It is a boxing title where you make your way through an arcade, career and online mode to be the best fighter in the world.  And as you win fights, you get prize money to spend on upgrades for your character's stats, making tougher and tougher opponents easier to defeat.
Graphics
Prizefighters looks like a Sega Master System game from the later part of its lifespan; it looks like an 8-bit game with a modern color palette. Fighters are large and easy to make out even in landscape mode, which this game does support, and all the text in the menus are easy to read.
Sound
Prizefighters has a chiptune aesthetic, with all the music and most of the sound effects having a very 16-bit sound to them, save for the punches; those sound like something you'd hear in a boxing movie.  It's very appealing sound design for the visual aesthetic they went for, and I couldn't imagine it sounding any different. The only downside is that the music that plays while you're fighting isn't as its inspiration, but it's hard to beat Punch Out!'s music, so I don't hold it against Prizefighter.
Gameplay
Prizefighters plays like a simplified version of Punch-Out!  It starts you out with a tutorial which teaches you the touchscreen version of the controls, though I would advise you swap to the virtual controller immediately; the touch screen lacks the precision that the virtual controller grants you, and precision is required to win the harder fights.  However, even though this game offers Bluetooth controller support, it's not necessary; you don't need to be able to rock the d-pad or have pressure sensitive buttons in order to get the game to do what you want it to do.
Ads and in-game purchases
Prizefighters offers plenty of microtransactions, but none of them are necessary to do well. You can buy coins to help speed up the upgrade of your fighter, though you earn coins from every victory, and can boost your character for harder career and online fights by fighting a few arcade mode fights. The cost of upgrades does increase as you buff your stats, but none of it requires you to buy any of the in-game currency.
As for ads, you can view an ad for an extra 150 coins every five minutes, and you get an occasional ad after winning a fight in career or arcade mode.
Prizefigthers – Final Analysis
Prizefighter takes much from its inspiration, but not enough to call it an outright clone.  Unlike Punch-Out!, fighters aren't a puzzle to solve; you just need to be quick on the draw to be able to beat the harder opponents.  And that is why I recommend Prizefighter; it takes a lot from Punch-Out!, but makes them their own in this fast-paced mobile game. You don't want to miss out on Prizefighter.
---
Check out my twitter for personal updates, and my blog for the full review.
You can recommend games to the Polyspice audience too. Take a look at our content guidelines.