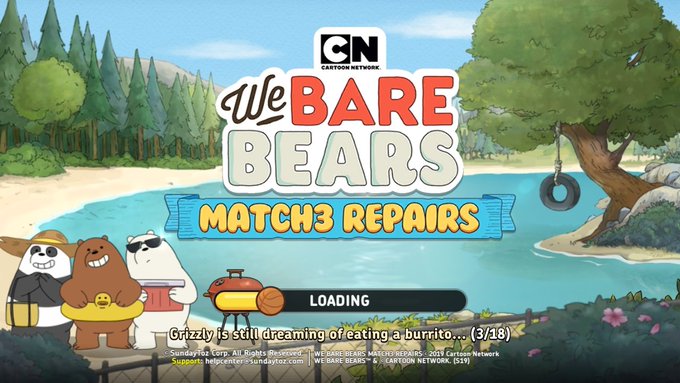 Recommended Game-We Bare Bears Match3 Repairs
If you're like me and have been playing video games for the better part of the past 25 years, mobile games are a hard sell. Which is why a game like We Bare Bears Match3 Repairs is so good. Developed by SundayToz Inc, this is a match 3 game starring the cast of the Cartoon Network series, We Bare Bears, a very smart show that doesn't talk down to the kids who are fans of it, and it tackles issues like "modern millennial anxieties" and is great for representing racial minorities. You play as Grizzly, Panda and Ice Bear, as well as their friends, as they clean up and rebuild the areas you see on the show through match 3 puzzles. Every time you solve a puzzle, you get a star, which you spend on items to clean up the map. This is a very family friendly game, so even though I know the Polyspice audience is mostly adults, it'll be fun for your kids if you let them use your device.
Graphics
We Bare Bears Match3 Repairs looks like the show, so if you or your kids   Every single thing in this game looks like it came from the show, so all the characters and locations look like they should look for this series. Griz looks like Griz, Panda looks like Panda, Ice Bear like Ice Bear, Charlie like Charlie, etc, and so do the locations.  I would have to say that everything in this game looks like it came out of the show.
Sound
We Bare Bears Match3 Repairs has sound clips for vocalization of the characters, sound effects from the show, and distinct music for both maps and the match three sections.  All of it feels like it came from the show; everything from the vocalizations to the music to the sound effects.
Gameplay
We Bare Bears Match3 Repairs is a simple match 3 game, which has all that kind of game entails. You swipe up, swipe down, swipe left and right to move your "gems", fruits, veggies and other snacks the bears eat in this case, in order to match 3 or more of them to make them disappear. This game also has objectives to complete in each map, from destroying a certain number of popcorn pieces to breaking ice blocks to finding all the Charlies on the map.
Ads and in-app purchases
We Bear Bears Match3 Repairs has absolutely NO ads. However, it does have a LOT of microtransactions. Too many, in my book, because, since this is a family friendly game based on a cartoon, you absolutely NEED to lock down your ability to easily make purchases if you're going to let your kids play this.  Do NOT let your kids play this without locking down their ability to make purchases, because every adult has a horror story of their kids getting their hands on a game and them buying $300 dollars or more on microtransactions.
Final Analysis
We Bare Bears Match3 Repairs is fun Match 3 game, overabundance of microtransaction options notwithstanding. Your kids will love the game due to it being based on one of their favorite Cartoon Network shows, and you will too if you're a fan of We Bare Bears.
---
You can visit me on twitter to see personal updates, my blog for full reviews and other things, and you can support me on patreon for updates on my novel and access to certain content on my blog 48 hour early.
You can recommend games to the Polyspice audience too. Take a look at our content guidelines.