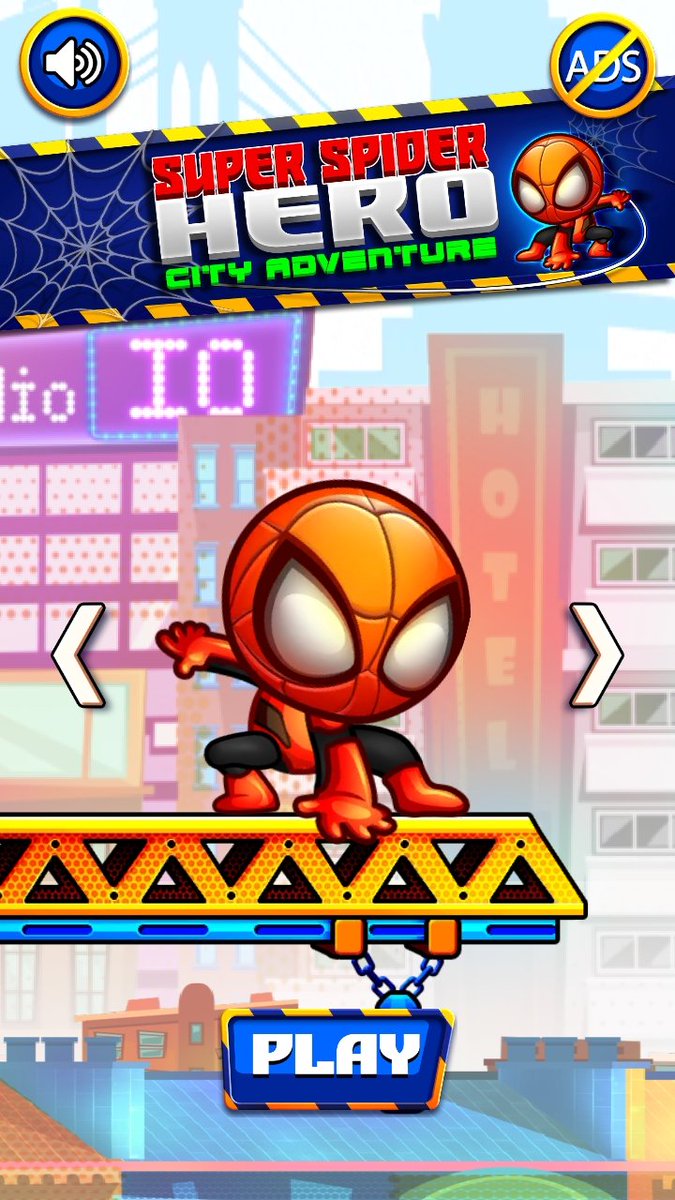 Recommended Game – Super Spider Hero
If you're like me and have been playing video games for the better part of the past 25 years, mobile games are a hard sell. Which is why a game like Super Spider Hero City Adventure is so good. Super Spider Hero City Adventure, from this point on called Spider Hero, is a game by Onesoft Global PTE, and is a game where you play as Not-Spider-Man swinging across the city to catch Not-Mysterio. I say things like that because this game is not licensed by Marvel comics, so even though they are obviously visually those characters, they are not called by their official name due to legal reasons. But don't fret, as this game is an obvious parody work, so it is legally allowed to exist.
Graphics
Spider Hero is a graphically good game. Even on a tiny phone screen, everything is big, easy to make out, and easy to read. And even though the assets, like the obstacles and backgrounds are obvious copy and paste, it fits the game. You are most definitely the Spider Hero webslinging across the city, dodging light posts and robots in your way.
Sound
Spider Hero is pretty basic for sound. You get a sound for the webs shooting out, a sound for impacts, a small explosion sound when you hit a robot that explodes, and a small jingle when you reach the end of the stage. Everything sounds great.
Gameplay
Spider Hero's gameplay is perfect. As I said previously, you're webslinging your way across the city in order to reach the goal. And this is when the controls come in; you're tapping and releasing to do what you need to do. But be aware of your momentum; if you swing too far or too fast, you'll miss your target and potentially fall to the bottom of the screen and have to start the stage over again.
But don't fret if you haven't played in a while; the game seems to have an adaptive difficulty. I downloaded the game, went on to something else for a couple weeks, and the levels were back down to a more basic difficulty, even though I was still 40 levels in at the time of writing this.
Ads and in-app purchases
The ad policy is a simple one; the occasional ad after a failure, and the occasional ad to allow you to continue on your path to the end of the stage. There are absolutely no microtransactions whatsoever, which is probably a necessity in a game that's trying to get by on Fair Use of Copyrighted Material. But even if there were microtransactions, they aren't needed; everything you can unlock you do so via progression.
Final Analysis
Spider Hero is a great game to play when you've got a few minutes to kill while you're waiting on something. And since it's not musically intensive, you can play it at a low volume pretty easily and not disturb anyone, though if you're in a hospital or something, it's still best to play with headphones or earbuds. It's easy to pick and put down for a ride on the train or bus, and it's definitely worth your download.
---
You can visit me on twitter to see personal updates, my personal blog for full reviews, and you can support me on patreon in order to see updates on my novel.
You can recommend games to the Polyspice audience too. Take a look at our content guidelines.