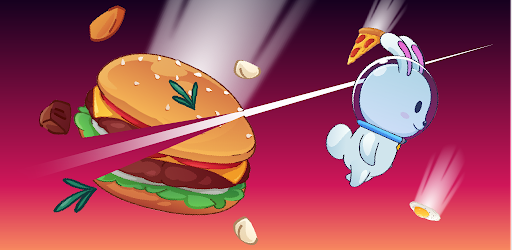 We are happy to announce: "Burger Bunny: Launch and Slice" is ready. Now go Play!
We have been working on the prototype of Burger Bunny: Launch and Slice for a while. We are happy and super eager to hear your feedback on the Burger Bunny Beta test.
Burger Bunny is the galaxy's most dangerous space bunny and now he comes to Food Rain planet to kick some butt and slice some food in the first Burger Bunny beta test.
After having worked on this for a while, we are now eager to hear some feedback on our game "Burger Bunny: Launch and Slice"
Burger Bunny is a super easy and approachable game that is fast and easy to pick up and get started with.
How to play
Take control of Burger Bunny, speed through the planet, slice the food rain to gain power.
Use your power to get speed and slice through any enemies.
Slice enemies to get more power, whatever you do don't lose too much speed!
Collect coins to unlock upgrades that will give you more power, speed, etc.
Features
Collect coins to upgrade your Burger Bunny
Collect food, to gain slingshot power
Slice enemies to gain enormous amount of power.
Beat your own record.
Download it now on Google Play
Where can I get the Burger Bunny beta test?

How to give feedback?
You can contact us by commenting below. If you have feedback for the game, please join our discord channel or send us a message through the contact form
What does Beta mean to us?
In Polyspice, we like to create games that are fun to play. This means that we are highly relying on your feedback on our games, so that we can improve it. Flick the Ball, is a really small version of a game that could become bigger. While in Beta, it is a cut down version of what it could become